Fundamentals Workshops

Simonstown                       Tuesday 14th April 7pm Moynalvey                          Saturday 18th April 10am
***Wednesday 17th is CHANGED to Wednesday 24th February***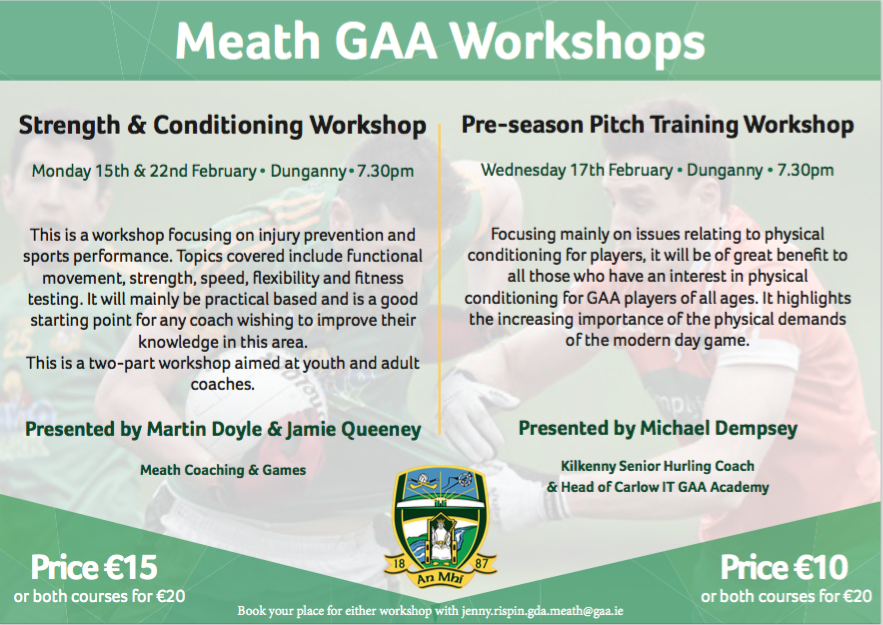 Liberty Insurance GAA Games Development Conference

The 2016 Liberty Insurance GAA Games Development Conference will take place on Friday, January 22nd and Saturday January 23rd next in Croke Park. Following on from the 2015 Conference – which focussed on issues related to the development of the youth player – the 2016 Conference will focus on issues related to the Adult Player (aged 18 + years). The complete programme is currently being finalised but the following expert speakers have been confirmed:
| | | | |
| --- | --- | --- | --- |
| | | | |
| Dr Richard McCannSports Institute of Northern Ireland | Bryan CullenAll Ireland Winning CaptainDublin Senior Football Team | Eamonn O'SheaAll Ireland Winning CoachTipperary Senior Hurling Team | Paul BradyWorld Champion HandballerFormer Cavan Senior Footballer |
| | | | |
| Damien YoungLecturer Limerick IT andSetanta College | Prof Ian RobertsonProfessor of PsychologyTrinity College Dublin | Dr Liam HennessyAcademic Director,Setanta College | Dr Sharon MadiganSports NutritionistIrish Institute of Sport |
| | | | |
| Fionn FitzgeraldKerry Senior FootballerLecturer, Tralee IT | Alan SwantonPerformance AnalystIrish Institute of Sport | Jeff LynskeyManager Galway Minor HurlersAll Ireland Champions 2015 | Paudie O'NeillFormer Coach Tipperary Senior HurlersChair, Hurling Development Committee |
Friday, January 22nd will feature a 'Play to Stay' forum that will investigate many of the issues related to ensuring that player are provided with an adequate programme of games, appropriate to their needs and abilities. Speakers will present on a number of initiatives that have been developed to complement the formal games programme.
Saturday, January 23rd provides an opportunity for delegates to attend sessions from speakers of national and internal renowned covering topics relevant to the player, the coach, the game and the environment. Speakers include:
Eamonn O'Shea, former Manager Tipperary Senior Hurling Team
Bryan Cullen, All Ireland Winning Captain 2011, Dublin Senior Football Team
Fionn Fitzgerald, All Ireland Winning Captain, 2013 Kerry Senior Football Team
Jeff Lynskey, All Ireland Winning Manager, 2015 Galway Minor Hurling Team
Prof Ian Robertson, Professor of Psychology, Trinity College Dublin
Dr Sharon Madigan, Sports Nutritionist Irish Institute of Sport
Paul Brady, World Handball Champion
Dr Richard McCann, Sports Institute of Northern Ireland
Dr Liam Hennessy, Setanta College
Damien Young, Lecturer Setanta College/LIT and Performance Analyst Tipperary Senior Hurling Team
Tickets for the 2016 Liberty Insurance GAA Games Development Conference are available to purchase from the dedicated ticket site here. Delegates are asked to book their tickets early as places are limited and strictly on a first come, first served basis.
Leinster GAA Total Playing Performance Seminars 2015
Leinster GAA are running five Seminars between January 17th and March 14th in the areas of Physical Fitness, Technical Proficiency, Playing Facts, Psychological Focus and Tactical Prowess/Team Play.

Follow the link for more information: Leinster Seminars